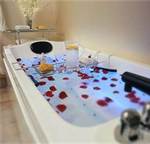 There are places where we all retreat to when we find ourselves in need of some comfort and care from mother nature.  Some of us retreat to high hilltops in mountains and nestle ourselves amongst the trees.  Others find themselves in need of vast space, open terrain that beckons them to think of little and be surrounded by few.
I find that my body and mind call me to surround myself with the sounds, tastes and gentle soothing that comes from being in water.  For me its my nesting place, my place to rest my mind and feel at one with myself and the larger entity of life.  I breathe deeply and inhale the vapors of the dewy air and find that my body opens up to me and utters relief and thanks.  When at the sea I dip my body in and surround myself with its energetic properties and feel at once at peace.
The healing properties of water have been utilized cross-culturally in primitive and advanced societies.  Many spas and centers for healing incorporate water into their therapeutic techniques such as hydrotherapy, saunas, whirlpools, hot and cold mineral baths.  When using these techniques they often approach treatment for each person individually, knowing that while one person may benefit from the use of for example a dry sauna another may find a wet sauna or jacuzzi more beneficial for their constitution.
The benefits of incorporating water into our healing routines in one way or another is something we can all experiment with.  If spas or healing centers are not within our budget there are plenty of ways to create opportunities to be near or in water within our own homes or communities.
Here are some basic suggestions:
1. If you live near the ocean, take a daily walk on the beach, make it a ritual.
2. Bath time. Create a relaxing bath for yourself twice a week. Incorporate aromatherapy essential oils such as lavender, eucalyptus, rosemary while adding baking soda and Epsom salt to sooth your muscles.
3. Join your local gym or YMCA.  Many gyms these days feature either a steam room/sauna, whirlpool or have an indoor pool.
4. Visit your neighborhood park.  Look for parks or local gathering places that feature a pond, lake or fountains where you can sit, breathe and relax by the waterside.
5. Buy an inflatable pool.  Get time with your kids and for yourself, visit your local sporting goods store or dollar store and splurge on a small plastic pool that you can sit your feet in while your kids get some fun play time.
6. Walk in the rain.  Take advantage of the free bee mother nature provides when the sky opens up.  Get wet, feel the dampness on your skin or stick to being indoors and enjoy it sitting by your window ledge and through your nostrils.
I'm sure you can think of many more ways to treat yourself to the healing nature of water.  Take advantage of one of life's most precious resources, and when you do, due so responsibly while giving yourself the gift of a bit of dew to soothe you.
Share about your love of water with us and how you have enjoyed it as part of your healing journey.