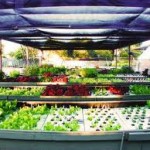 I am delight to be writing this post just after having meet in a celebration with the folks at Rhibafarms for the two years they have supplied me with sprouts and wheatgrass while living in Arizona.
If you are anything like me you are filled with gratitude when you find the opportunity to make connections with people in the health and wellness industry who while attending to your needs provide so much more.  That's what you get with Rhibafarms.
Whenever I move to a new place I always take time to find how I can source my food and other basic necessities locally.  I like supporting local business for the fact that you know you are contributing to small businesses often made up of people from the community in which you are living.  By contributing to their efforts you know you are enhancing the welfare of many other families, people with names and faces that make up the community in which you live and grow.
That's what I found with Rhibafarms (to learn more about them click here).  Rhibafarms was developed by Mark and Marlo and has become a multifaceted operation in farming supplying the local community with a variety of  vegetables and sprouts, as well as dried herbs, spices and teas all developed from their farming practices.
Aquaponics are used to grow their vegetables, while their sprouts are harvested with the use of coconut shells. Every plant is fed a good dose of clean reverse osmosis water,  love and attention.  Rhibafarms produces can be picked up at several locations around the area.
In addition to their variety of produce, they have an Adopt-a-Chicken program in which your money goes towards housing and maintaining a chicken which in turn provides you with healthy beautiful batch of eggs.  According to their website, one chicken can produce up to as much as six eggs a week!  Those busy chicks, I tell ya!
I've enjoyed getting my sprouts and wheatgrass at Rhibafarms for two years and in such time it has been the people, their character and warmth that has made receiving my goodies all the more delightful.
So should you belly be seeking fresh and local produced produce and farm products, check out Rhibafarms in Chandler, AZ.  Your sure to come away with more than what you were looking for.  Be sure to say hi for me!
What local farms, co-ops or other market place produce have you discovered in your neck of the woods?  Share with us.