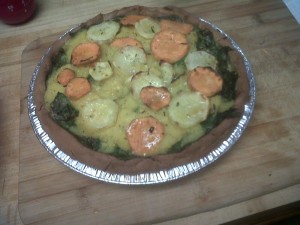 The holidays can often be a daunting affair for the average person.  There is the pressure of getting to the loved ones you plan to spend time with and then there is the ever important question that has to be answered, "What are we going to eat?!"  For people dealing with digestive issues such
as those like myself with UC, this is a question we are always considering.
But the holidays put us in a particularly tough spot because often this means involving others in your celebration, which means preparing food that will appease you and others.
Well this holiday season I was happy to find myself in the kitchen with the courage and excitement at just being there to cook and prepare a meal for me and my boyfriend along with our guest.  Having other loved ones at the table to share a meal is absolutely one of my most favorite times to enjoy, however I too was daunted by the task as I faced the fridge and my receipe book puzzled.  I was happy to find a recipe in the November Vegetarian Times magazine that I decided to modify to my liking.  It called for a sweet potato and chard torte, which would have been yummy but did not quite have me at holiday.
What I needed was a nice base and some more filling.  And so I came up with a Sweet potato, chard and squash pie, making my first crust ever! experimenting at the holidays may not be your cup of tea, but for me it gave me the extra mojo to give myself permission to enjoy making a nice meal with the spirit of joy. So here it is, though I leave it to you to create the crust from scratch or buy a nice gluten-free option you can find in your freezer section of your supermarket.  I used a cookbook and then experimented but you can find plenty on the web.
Follow this link for the Vegetarian Times Layered Sweet Potato Torte.
Crust: I used the Grain-Free Pie Crust recipe from The Allergy Self-Help Cookbook by Marjorie Hurt Jones . I used quinoa flour and chickpea flour.
Filling: I added acorn squash and butternut squash mixed together in a food processor.
Note on potatoes: I used a mixture of sweet potatoes various types made it all the more interesting.
Note on chard: I marinated the chard in a bowl before putting it in the pie with garlic, olive oil and onions and fresh rosemary.
Do let me know how you enjoyed it!
Happy Holidays!