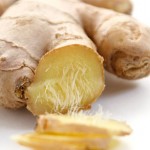 Ginger is an underestimated herb.  It's a powerful punch for all its got packed into it and it comes at fairly reasonable prices.  Ginger can be taken in herbal form, root form or as is often the case eaten mixed in with other lovely herbs and spices as you might find in a lot of Thai cuisine.  I love it any way that I can get it and I have turned to ginger on many occasions when I have needed to cleanse, detox or just wanted a good steam of heat to run through my body and stimulate my senses while at the same time soothe me.
Ginger has that ability to be both a powerful tonic and calming at the same time as its helped calm my belly from many discomforts.  It's an acquired taste for sure; you either love it or hate it as it is not mild in its delivery in any form you take it.  If you want the mildest way to take it you can also find it as a supplement, crushed up in a powdered form and deliverable via a capsule. One way that I have used ginger is when I am beginning to get the onset of a cold that has the potential to turn into so much more and disturb the "eco-system" of the rest of my good natured immune system and I have to stop it dead in its track.
I buy the fresh root ginger and go to work.  A good palm size portion will last you a good while, of course it depends on how strong you like it and how often you use it.  To boost up my immune system, I take the ginger root and place it in water to make a tea.  It's also effective to use powdered ginger for this tea as well.  When I am working I just take the powdered ginger to work with me and place it in a nice hot cup of water and sip on it all day.  If you have a nice ledge in your kitchen that gets some sun, put some in water and allow it steep in heat from the rays of the sun.  It can be sweetened to your delight, or add a bit of lemon for some extra vitamin C.
A good  follow up to this immune-packed tonic is to then take a hot bath with Epson salt and baking soda.  A good cool rinse after a hot bath will keep the blood flowing in the right way if you can tolerate it or just skip it and grab your favorite pajamas and bundle up under the blankets.  The ginger will warm up your system from the inside and the hot bath will do the rest creating a concoction for a good sweat and a wonderful nights rest.  So as the days get a bit colder and you find yourself needing some good warming energy and immune building for your body, grab that strange looking root from the produce aisle for a good tea and save the rest for when you feel better and invite your friends over for a nice ginger spiced meal!