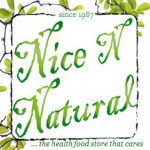 I have a routine that I have carved for myself when I go to a doctors appointment  or out to run errands I seek out a place to eat nearby so that I can make a little treat of it. Usually I look online before I set my compass on where I am going and scoop out the neighborhood.  I look for restaurants that have a nice selection of vegetables in particular and some staples at a reasonable price.
Recently I have discovered a number of local natural food stores/ eateries.  This is a nice option that I have not had the pleasure of encountering prior to moving back to Long Island New York.  Usually in the health conscious places I have frequented in the past they are either a food/vitamin store or a restaurant.  But to have both is really a nice advantage.
You can pick up a few supplements and food staples while you sit and enjoy a meal.  One place that has been on my radar is "Nice N Natural" whose website (still in development) you can find here.  The owners Rosemarie and her husband whose name escapes me right now are delightful.  They moved to their location in Carle Place,NY after over 20 years of having their store in Manhattan, NY.
At "Nice N Natural" you can find a nice array of prepared salads and sandwiches like egg, tuna and avocado.  If you are trying to avoid gluten they are happy to prepare any sandwich with gluten-free bread.  They also have wonderful home made soups.  A favorite of mine is the kale and chickpea.  The water used for the soup is "ph" balanced so along with the zesty flavors and spices which are all mild, and the broth prepared from scratch you get a nice added kick of energy.
If you just want to stop by for a juice you are welcome here as well.  They use primarily organic fruits and vegetables (seasonal availability) and have a menu of choices for smoothies and juices that can be made to order.  Wheatgrass is freshly cut and prepared on the spot.
Along with the juice bar and cafe, Nice N Natural hosts walls of supplements, natural beauty supplies, herbs and spices,  bulk bins of staples like rice and beans and specialty snacks.  You can also order with them should you not find something on the shelves you were looking for.
The added advantage of their location is that they are across the street from Trader Joes, a food store and Starbucks, which we all know about.  There is the added bonus of course  of a number of clothing and shoe department stores like Nordstrom Rack and Bloomingdales also located in the plaza across the street.  You can make a day of it and enjoy a shopping experience that will leave your body satisfied with delicious nutritious edibles while window shopping at your favorite boutique.
So next time you are in Carle Place and searching for a place to eat while attending to your doctors appointment or just shopping around, stop by "Nice N Natural".  You will be glad you did and your body will thank you.