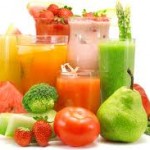 Today there are so many ways to treat yourself to the daily dose of fruits and vegetables that make for a healthy diet.  No longer are we confined to chomping on a carrot, a piece of broccoli or celery stick we carry along with us for our lunch to supplement the veggies we hope to include in our dinner menu. Children don't have to be force fed to "finish their plate" with the cold peas leftover from their meal to cold for anyone to really enjoy.
Fruits and vegetables can now be consumed through juices, smoothies or a combination of the two.  They complement one another especially when mixed together to create a nice shake.
Recently I experimented away from my juicer to a new horizon with vegetable and fruit shakes.  I purchased the NutriBullet.  I was encouraged to do so after learning about other people with UC or digestive issues that were using the" NutriBullet" as a way to get their fruits and veggies in a easily digestible form.   Its easy to use and clean, which is one of its marketing appeals.
Shakes and blended beverages are particularly important when dealing with a flare-up and the healing process.  This is a time when we could use the nutritional boost from such vegetables as kale and spinach, and vitamins from apples but find the roughage too difficult on our systems.  By incorporating fruit and vegetables into a shake, you ensure that you are supporting your body with good nutrition.
Take handfuls of the vegetables, cut up some fruits add water  or nut milk and your done.  Its that simple, and the bonus is easy to clean.
Here is a recipe for a shake I have been making in the mornings that has really started my day off right with a good energy boost.
1. spinach- handful
2. celery- few stems
3. cucumber- half or 1/3
4. half an apple or half a banana- (I sometimes omit this)
5. a piece of ginger root
6. a clove of garlic
7. add water or nut milk
Mix together and throw in some vanilla and your good to go!  For added goodness throw in a tablespoon of flaxseed oil or chlorella powder.  As an alternative to spinach, is kale which is packed rich with vitamins and minerals.
Don't be discouraged if you don't have a "NutriBullet." Shakes can easily be made in your blender as well.  A tip: cut up your pieces of fruits and vegetables into small pieces and add a good amount of water or nut milk.
Experiment and see what works for you and share your latest shake with us.
In health,
Safara