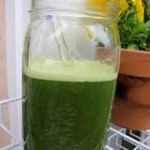 An article posted in Barron's July 23,2012 magazine entitled Drink Up! find it here exemplified the shift that is slowing taking place towards healthier alternatives to fast food chains.  Juicing is becoming the norm.  No longer is juicing reserved to health food establishments, spas or alternative healing centers.  Now you can get your juice wherever you may be and enjoy it as part of your everyday.
The article suggested that juice bars and in particular vegetable juices sold at high prices are in great demand.  According to the article it has become a $5 billion dollar business and only keeps growing.  Starbucks is said to be heading up a new chain called "Evolution Fresh" a healthier alternative featuring fruit and vegetable juices.  Many smaller start up companies that once held a small spot on shelves next to sodas and ice teas like Bolthouse Farms, Odwalla and Naked Juice have been acquired by big giant beverage companies Coca Cola and Pepsi Co to name two.
Though the prospects of seeing these smaller companies being bought up by these larger chains that furbish our grocery stores with unhealthy beverages and food choices doesn't agree with me, I do like the idea that juicing has taken on a more dominant trend in the food industry.  We don't have to go as far to get a healthy satisfying beverage, it can be found right around the corner at our local food store.
Though not all neighborhoods offer such conveniences and access, my hope is that with juicing becoming more mainstream it will spread across communities and become accessible to all.
We don't have to wait for this trend to hit our neighborhood though.  Making a juice for yourself can be done with easy and will probably cost you a lot less than you would pay for a bottled or pre-made juice.  Juice is always freshest and at its highest level of body goodness when consumed within a short period of time of being juiced.  The bottled juices you find in supermarkets have often lost a lot of the nutrient content already due to being packaged, contained  and shelved for indiscriminate amounts of time before being sold and consumed.
Here are a few samples that I like to include when making a juice.  Hopefully you will try to make a juice yourself and share what combinations you enjoy.  Support the trend and keep the juices flowing!
starters: celery, cucumber
add ins: kale, chard, spinach
bonus highly nutritious bits: pea sprouts, sunflower sprouts
flavorings: ginger, mint, garlic, parsley, lemon, fennel
fruits for a bit of sweetness: apples, pears, plums, blueberries, raspberries