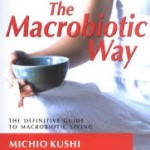 Good day Health Trekkers,
I hope the day finds you with a smile. In Lenox, MA the 2017 Macrobiotic Summer Conference has begun. With such, I encourage you to take a look at last week's blog and the offerings.
I am providing here a list of some supplementary materials on macrobiotics and healing methodologies particularly those presenters featured at the conference.  I begin with Michio Kushi, Founder of Macrobiotics.  You can find many books by him and you will see here he co-authored with some of the presenters.  
Michio Kushi–The Cancer Prevention Diet Michio Kushi's Macrobiotic Blueprint for the Prevention and Relief of Disease.
Virginia M. Harper Controlling Crohns Disease the Natural Way
 Neal D. Barnard, M.D Nutrition Guide for Clinicians 
Martha C. Cottrell, M.D. AIDS, Macrobiotics And Natural Immunity
Sheri DeMaris, M.Ed Macro Magic for Kids and Parents
Edward Esko Contemporary Macrobiotics, Yin Yang Primer, Rice Field Essays
Alex Jack The Book of Macrobiotics
Gale Jack Rice is Nice
Sachi Kato One Peaceful World Cookbook (BenBella Books) to be released.
Tom Monte Complete Guide to Natural Healing
 Christina Pirello Cooking the Whole Foods Way
Jane Stanchich Healthy Holiday Cooking: Delicious Macrobiotic Recipes for Autumn and Winter Celebrations
Denny Waxman The Complete Macrobiotic Diet
So if you are unable to make it this year, take time to review some of this literature and see what you can discover about macrobiotics.  Perhaps next year will see you there.
In health,
Safara