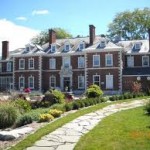 Good day Summer Trekkers,
So who's looking for a great spot to find all you can learn and digest about Macrobiotics while enjoying delicious meals and wonderful informative peace-filled community of macro's… well if you are you are in luck!
The Macrobiotic Summer Conference is coming the end of this month.
Traditionally, the Macrobiotic Summer Conference was held at the beautiful Kushi Institute in Beckett MA. Founded by Misho Kushi, this served as the center for macrobiotics around the world. Sadly, the institute closed its doors this past Fall 2016.
We are blessed however to have a new location for the summer conference just down the mountain from Beckett. This years 2017 Macrobiotic Summer Conference will be held at Eastover Estate, a holistic retreat center located on 600 acres of a natural sanctuary. Located in Lee, MA you are in the center of what is a mecca for nature lovers, music, art, outdoor exploration and more.
Highlights of Conference:
Presenter on Digestive Wellness: Virginia M. Harper
My dear wonderful and amazing Virginia M. Harper, Founder and Director of You Can Heal You…One Meal at a Time.
Virginia will be providing a workshop and cooking class during the conference: 
Thursday, August 3, 11:00 – 12:30 p.m.
Cooking Class – TBA
Virginia healed from Crohn's disease over 25 years ago and has since dedicated her life to supporting youth and adults with digestive wellness therapy.  Her program helped me over 3 years ago and I have been a dedicated to following her cooking and self-care practices ever since.  As a teacher, counselor and chef who was trained directly by Misho Kushi after he helped Virginia to recover from her own battle with Crohns. Her experience and know-how is extensive and fully comprehensive to effectively treating digestive disorders with macrobiotics. She has a new book as co-author of Crohn's and Colitis: The Macrobiotic Approach with Edward Esko and Alex Jack. She will be available to provide counseling and menu planning.
Please visit her website to learn more.
You will find on her website as well my profile as her Personal Assistant.
Keynote Speaker for the Conference: Neal Barnard, M.D. will be presenting on Friday, August 4th.  He is President of Physicians Committee for Responsible Medicine that hosts the International Conference on Nutrition in Medicine in DC (ICNM).  He is also a featured presenter yearly on the Vegan Cruise Holistic Holiday at Sea (Virginia M. Harper also regularly attends).
Bio from the website: Neal D. Barnard, M.D., is a nutrition researcher, author, and health advocate. As an adjunct associate professor of medicine at the George Washington University School of Medicine, Dr. Barnard conducts studies on the role of nutrition in diabetes, obesity, and lipid management, among other health issues. Dr. Barnard's articles have appeared in the American Journal of Clinical Nutrition, the American Journal of Medicine, Journal of the American Dietetic Association, Scientific American, American Journal of Cardiology, Obstetrics & Gynecology, Lancet Oncology, Preventive Medicine, and many other scientific and medical journals. Dr. Barnard is the editor-in-chief of the Nutrition Guide for Clinicians and the author of 15 books for lay audiences.
Presenters for the conference can be found here.
So come enjoy the fun and treat yourself to a full array of opportunities to improve your health and wellness.
In health,
Safara