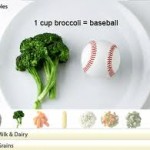 In my personal endeavours as I train to become a registered dietitian and my interest to learn more about what is being developed to address health, I often read several types of media to gain a perspective of what is catching the public's eye.  Recently, in a Sunday, September 2, 2012 article in the Business section the New York Times was an article entitled "A Weight-Loss Strategy From an Unlikely Pair" (see here).
The article written by Nicole Laporte shares about a new invention that was created by a personal trainer (Steven Kates) and an independent filmmaker (Myles Berkowitz).  The invention called "Lifesize" is a weight-loss strategy that aims to make portion control easier.
We all know that portion control is a necessary part of approaching what we eat with some balance.  You may be aware of one standard comparison, " a deck of cards is equal to one portion of meat" however, this aims to make that visualization even easier.
Using what looks a lot like measuring cups and saucers, "Lifesize" brings the portion system into a portable and user friendly tool.  Bowls and cups are labeled conveniently with for example the letters "M" meat, "D" dairy, "C" carbohydrates referring to major food groups and/or referenced foods contained in these food groups.   Additional plastic containers are labeled for what may be consumed in a typical meal such as  "Liquids" and "B" for baked goods.
An interesting note about this is that one of the inventors, Mr Berkowitz actually used this methodology for his own successful weight-loss.  Rather than focusing on what he ate in detail, he placed his attention on the portions he ate and found himself successfully loosing 46 pounds.  This is the inspiration from which he and Mr Kates who schooled him in the portion sizes chose to collaborate for their invention.
The invention has already found itself in the hands of some doctors and specialist who use "Lifesize" to demonstrate to their patients about portion control.  Its a tool they have found applicable to helping people to gain an understanding of the concepts of what is a portion without having to use their imagination.  This takes the guessing out of the equation.
It will be interesting to see how it is further applied and used in the market.  I for one would be interested to learn more.  An important question that was not answered by the article that I remain curious about is what standard of measurement were used to develop the portion-control diet system.  Do they meet USDA standards?
What are your thoughts, questions or comments-is this a useful technique for weight-loss?