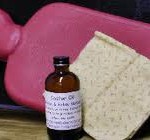 Recently I have taken the time to do some rejuvenating.  I completed a long and stressful semester of schooling with great success and have found that my body as well as my mind are ready for a break.  With a flare up of my colitis I have taken the time to give myself a tune out rejuvenating period.
This time has included amongst other things, lots of movies, reading books and rest.  It has proven itself to already work wonders as my body has found itself coming back to center and with it I have discovered how important doing this on a regular basis can be for my health.
One particularly part of my rejuvenating time has been to implement the use of Castor oil packs on a more regular and prolonged basis. I usually use Castor oil packs on a weekly basis.  When I do use them I find the healing affects are immediately felt.  The warming sensation with the oils seems to calm my belly and gives me a comforting way to fall asleep.  I find myself waking up more restful the next day.
The ingredients are simple.
1 bottle Castor oil
1 cotton flannel cloth (boiled or put in laundry to purify it)
Plastic wrap-BPA free ideally
Hot water bottle
1 storage container with lid for fridge
Old clothes or sheets (Castor oil stains clothes and bedding)
Take the flannel and soak it in the container with the Castor oil just so its saturated not dripping.  You have now created the pack.
Application:
Here is what I do,  fold the pack so that it fits the area you want to treat directly on the skin.  Cover it with plastic wrap.  Place the hot water bottle on top and leave it on for 45-60min.  Rest.  When you remove it, put it back in the container and store it in the fridge.  Clean the area treated with a bit of baking soda and water.   If you would like to use it for a more extended period of time,  the pack can be left on without the heat, and applied to the body by wrapping it with a bandage overnight and removed in the morning.
You can reuse a pack for up to 25-30 applications.
Applying the Castor oil pack can be done not just for belly issues as it has proven effective in treating a number of inflammatory and other conditions such as bruising, sprains, arthritis, constipation and menstrual irregularities.   Of course you can increase the benefits of its medicinal qualities by thinking positively and sending loving and healing light energy to the area that needs attention.
So give it a try and see what comes of your rejuvenating time with the added benefits of a Castor oil pack to sooth you and give you some healing.   Let me know how it works for you.