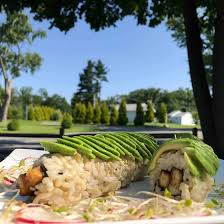 Happy Health Trekkers,
Hope your summer is off to a great start. We here in the east coast of Massachusetts have had full sun and the welcoming light of day has lasted well into the evenings. It offers opportunities for being out with after dinner walks when cool as well as a great way to make some sun tea. I will share more on summer tips next month…however for this month I am dedicated the blog to an invitation to come join us at 2018 Macrobiotic Summer Conference.
Come join Virginia M. Harper and myself  with You Can Heal You…One Meal at a time at  2018 Macrobiotic Conference, Lenox MA, July 28th-August 4th.  To registration please go to this main website.
Formerly held at the Kushi Institute, now host at the beautiful Eastover Estates in Lenox, MA.  Luscious beautiful greens hills and valleys nestled in the Berkshires, MA.  It features over 25 leading macrobiotic teachers from around the world and includes over 50 presentations. The day is designed to introduce those new to macrobiotics as well as seasoned attendees with healthy lifestyle choices including:
Come and enjoy with us!
Macrobiotic Cooking: delicious meals served daily. All meals feature vegan macrobiotic cuisine and gluten-free options.​
Cooking Class: including menu planning, tips for kitchen prep
Energy healing and Opening Day Exercises: ie. meditation, yoga, Quigong
Lectures: ie digestive wellness, healing inflammation, energy of foods,  managing your condition, laughter and other therapeutic supports for body and emotional balance to well-being.
Virginia's two workshops:

Tuesday, July 31, 2:00 – 3:30 p.m.  Demystifying Inflammatory Bowel Disease 

This class will help to unravel the reasons that bowel disease is on such a rise. In particular, Crohns and Colitis effect all ages globally from toddler to the elderly. It has no prejudice and it stifles daily life. The treatments are just as devastating if not worse than the disease. Virginia's approach is simple, effective, long-lasting and most importantly are proven personally. Using the macrobiotic principles of food energetics, she teaches how to free yourself from inflammation…in your body and mind.

Wednesday, Aug 1, 9:00 – 10:30 p.m.  Digestive Remedies Using Healing Foods

This is a class that will explain the healing power of food. Taking individual food ingredients and preparing them in a specific way creates a plethora of effective remedies. You will learn the proper cooking method and combination necessary for symptom management and prevention. For digestive disease, it is especially important to identify the body's signals before an inflammatory attack sets in. It's important to know the what, the how and the when in combining whole natural ingredients in creating the appropriate remedies.

Virginia M. Harper's  Bio and the Program for all Presenters
Cooking classes and lectures are offered throughout the day and evening.  See schedule on main website and here.

Registration offers both full week and day passes.
More on location: Eastover is located in Lenox MA near to Tanglewood, Jacob's Pillow, Bizen Japanese Restaurant, and other Berkshire attractions. Eastover is about 3 hours drive from Boston and New York, and about 1 – 11/2 hour drive from Bradley International Airport in Hartford CT and Albany Airport in Albany NY
We look forward to seeing you there!
In health,
Safara