Around the season of winter I find myself more inclined to curl up on the sofa and get cozy than be anywhere else, especially the gym. The fireside beckons me or I wrap myself up in a long sweater for the day and huffing and puffing just don't seem to make it into my day. However, I have found my way into exercising in a way that gives my body movement and begins my day with a refreshing awakening without being overly worked-out. I'm not talking about getting on a treadmill for an extra hour or biking another 6 miles into your routine.
I'm simply talking about stretching. Stretching is an important component to any exercise routine and is often overlooked because it doesn't offer the sweat and burn of cardiovascular or weight training. However, many movement exercise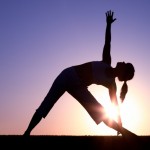 ses like yoga and pilates incorporate stretching as a fundamental component of the routines for your body. Taking this into consideration as well as the flare that I experienced in the Fall, I have started stretching as part of a mini-exercise routine I do in the mornings.
Before my brisk AM walk on the grass where I breathe in deeply and flap my arms about, (very amusing especially to the cats who watch me) I begin on the mat.  I use a long round tube and roll my feet along it.  Then I work my way up my body, my calves, and then my thighs rolling back and forth and breathing.  Laying on my back with the tube under my neck, I do a backward stretch with the tube under my arms to open up my lungs. I turn on my side and stretch out my arm in one direction and my leg in the other, stretching them apart as far as I can, picturing a long string attached to either end.  I repeat the same on the other side. I do this several times, then conclude returning to my back and point and flex my feet in the air.  At the end I also will do a few yoga roars of the lion on all fours curling my head in and my belly up and then releasing it. This is great for your intestines as it loosens and massages it.
It's a wonderful way to begin the day and a great opportunity to say yup I did my exercise today and I'm all stretched out from it! hehe Let me know what you do to keep your body limber.