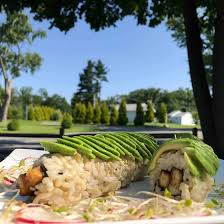 Good evening Health Trekkers,
Summer is here and with this is the new season Macrobiotic Summer Conference 2019 in Massachusetts, July 28th- August 3rd.  The event as last year will be held at the beautiful Eastover Resort &  Eco-Village, Lenox MA.  
My wonderful mentor and dear friend Virginia M. Harper of You Can Heal You will be hosting three workshops this year.
Virginia M. Harper of You Can Heal You classes:
7/31  Cooking for Intestinal Health  (9-10:30am).
7/31 Stop your Belly Aching  (4-5:30pm).
8/1  Chew on This (9-10:30am).
For workshop descriptions with more about Virginia M. Harper and other presenters at the conference please see here.   The week is filled with something for everyone.  Morning exercise classes, afternoon workshops, deliciously prepared meals during the day and evening gatherings.  Please see full  calendar.
Hope you will find yourself inspired to attend and see what may support you in health and digestive wellness.
Enjoy!
In health,
Safara