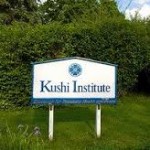 Dear Health Enthusiast,
We find ourselves with the final few weeks of this August.  As we do, many of us are finding time to make with family and friends for pre-back to school and end of summer frolic to round out our summer.   This is a time we can find opportunities to have fun while continuing with opportunities to support our health.
The more comfortable temperatures can be a motivation.  We can encourage ourselves on daily morning and evening walks for example and engage in activities outdoors for longer parts of our day.  Stimulating our circulatory and digestive system pre and post meals is a great way to keep your body feeling good and promote regularity.
If you haven't taken advantage of the abundance of fresh produce in the season hit your  farmers markets or visited a local grower or farm stand.  Vegetables like broccoli, summer squash, zucchini, leafy greens and a variety of herbs are in their peak.  Once you have gathered these in your kitchen its time to enjoy your kitchen.    
So what are the best ways to enjoy these vegetables in a digestive- friendly manner?  If you are managing a digestive condition like ulcerative colitis or crohns you may want to get in the kitchen and enjoy preparing a nice meal but find yourself fearful or lost as to how to with the condition you are managing.
Want to learn how to get you back in the kitchen and understand more about these conditions and how to alleviate painful symptoms?
Come find out the best digestive-friendly ways  to cook up your vegetables while learning more about healing your gut.  
Special program from the Kushi Institute August 28th thru September 3rd: Crohns and Ulcerative Colitis with Virginia M. Harper. 
You will get an in-depth lecture series on digestive wellness and the opportunity for individualized consultations with Virginia M. Harper, Founder of You Can Heal You…One Meal at a Time.   
If you attended the summer institute in early August you will have enjoyed a gathering of various macrobiotic, yoga and health affirming individuals for the workshops and lectures of which Ms Virginia M. Harper's lecture and cooking class were well attended.
Kushi Institute will be hosting Virginia M. Harper with myself as co-facilitator for her program.  Macrobiotic cooking classes along with breakfast, lunch and dinner are included in the price.  
Come join us for this special digestive wellness retreat.  
Date:  August 28th thru September 3rd
Event: Controlling Crohns and Colitis- Virginia M. Harper
At: Kushi Institute, Becket, MA
Time: Check Schedule for daily activities and lecture times. 
Cost: Visit website for prices 
Website: http://www.kushiinstitute.org/controlling-crohns-colitis/
I hope you continue to enjoy this wonderful season of light and look forward to seeing you there.
In health,
Safara